Toyota the clear favourite to meet CO2 targets
16 August 2019
Toyota is the most likely carmaker to meet, or come close to meeting, its 2021 CO2 emissions target, thanks to its early adoption of hybrid technology.
Autovista Group website and Daily News Brief readers voted overwhelmingly for the Japanese company in our latest poll, with 70% suggesting it will be the most likely carmaker to either avoid a fine or pay the least amount should it breach its CO2 targets.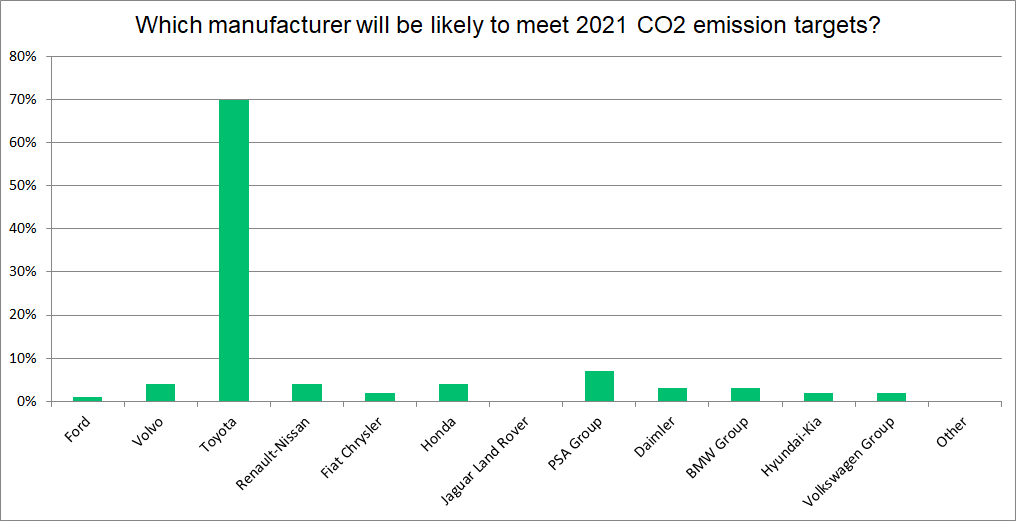 Manufacturers have individual targets to meet at the end of 2021, with an average grammes per kilometre (g/km) across their fleets. The European Union wants to achieve an industry-wide average of 95g/km, and companies will be fined €95 per gram over their respective targets, multiplied by the number of cars they sold in 2020 and 2021.
Following the collapse of the diesel market, many are now struggling. With its fleet of hybrid vehicles, which have been on sale since 1997, and developments in hydrogen, together with a push for electric vehicles (including research into solid state batteries), Toyota is perhaps the most likely to meet its CO2 target, and readers agreed with this, the Asian company winning the latest poll by a landslide.
French development
In a distant second with just 7% of the vote was PSA Group. The French company was a pioneer in selective catalytic reduction (SCR) technology in diesel engines, and has been working to introduce more efficient petrol engines in its Peugeot, Citroën and DS ranges to reduce CO2 output.
The carmaker is also working to introduce hybrid vehicles, with the DS7 Crossback being the first PSA vehicle sold with the company's new plug-in hybrid drivetrain starting in September 2019. It will be followed by the Peugeot 3008 and 508, the Opel Grandland X and the Citroën C5 Aircross. All the models are built on PSA's e-EMP2 platform for compact and midsize vehicles.
Joint third, with 4%, were Renault-Nissan (pioneers of electric vehicle sales to the mass market), Honda and Volvo. The Swedish firm spun out its Polestar division and has an aim to electrify all its vehicles by the end of this year, so it is perhaps surprising they were not higher up in the results.
German emissions
German groups Daimler and BMW were next, with 3%. BMW recently announced an electric version of the Mini but has been criticised for losing its way with EVs, having been a pioneer through its i3 model. This criticism led to the resignation of Harald Krüger and installation of Oliver Zipse. Daimler has also announced it will electrify its Smart brand together with Geely. However, this may be too late to meet CO2 targets in 2021.
Hyundai-Kia, Fiat Chrysler (FCA) and Volkswagen Group received a 2% share each. FCA recently announced it was to purchase Tesla's emission credits to help it towards its goal, while VW recently unveiled its ID.3 - again, potentially too late for 2021. The German carmaker is expected to receive the biggest EU fine for breaching emissions targets.
Ford received just 1% of the vote, following its tie-up with Volkswagen, while Jaguar Land Rover gained no votes in the poll.