Insight: Residual value performance of Opel and Vauxhall contributed to the financial and market share losses in 2017
8 February 2018
The sale of the European division of General Motors (GM), consisting of the Opel and Vauxhall brands, to the PSA Group was announced in March 2017 and was finalised on 1 August 2017. Opel and Vauxhall lost share in Europe's new car market in 2017 and a report published in Handelsblatt on 5 February suggests that Opel lost more than €1 billion in 2017, although this figure has since been denied by the company. Autovista Group analysis reveals that residual values have not escaped unscathed either.
GM's European division was up for sale back in 2009. It was ultimately called off as GM deemed that Opel was pivotal in its future strategy. Fast forward seven years and speculation about a sale of the European unit mounted again. There is no suggestion that the Opel and Vauxhall brands will disappear but the sale process has undoubtedly been unsettling for potential customers. This is essentially because consumers - rightly or wrongly - fear they could be left without dealer support, a meaningless warranty and even a shortage of spare parts for their new vehicle.
Registrations of new Opel and Vauxhall cars in Europe (specifically, the European Union and EFTA) fell 5% to around 940,000 units in 2017 even though the market expanded by 3.3% according to ACEA data. Market share in Europe for these two brands fell from 7% in 2016 to 6% in 2017. However, this loss in share cannot be solely attributed to concerns about the future of the brands. Even though seven new models were introduced in 2017, Opel and Vauxhall have been late to add competitive SUVs to their line-up, with the Crossland X and Grandland X only appearing in 2017. Prior to this, the brands' SUV offerings were based on Chevrolet models developed in South Korea, namely the Antara (based on the Chevrolet Captiva) and the Mokka/Mokka X (based on the Chevrolet Trax). Given the boom in SUV sales in Europe, this has had a significant negative impact on Opel and Vauxhall demand.
Residual value performance has also played a role in the loss of market share and ultimately the financial losses of the Opel and Vauxhall brands in 2017. Trade values for these brands have struggled to keep pace with the development of average unweighted residual values[1] for passenger cars in the EU5. Although dealer support and warranties are arguably less of a concern for used car buyers than new car buyers, uncertainty over the future of the brands will undoubtedly have unsettled some used buyers too.
Germany is a notable exception as the retained values of Opel cars have tracked the average of residual values in the country since mid-2016. They even narrowed the gap to the national average from five percentage points at the start of 2015 to less than three percentage points in mid-2016. This may be because core competitors in the mass market such as VW, Ford, Renault and even new stablemates Peugeot and Citroën have been more implicated in the diesel scandal. This has certainly had a detrimental impact on VW values.
In France, values of Opel cars track close to the average values for passenger cars. In fact, average values for Opel cars were higher than the national average for all brands throughout most of 2015 and again early in 2017. Since PSA's announcement of the acquisition in March 2017, the gap has widened but remains at less than one percentage point. It may have even improved the brand's desirability now it is under French ownership. In turn, this may have supported the comparative resilience of Opel trade values in France.
Residual values of Opel cars in Italy and Spain and Vauxhall cars in the UK have been consistently failing to track the development of average values in each market. Between January 2017 and January 2018, the variance between Opel values as a percentage of original list price and the respective market average has widened by at least one percentage point. In the UK and Italy, Vauxhall and Opel cars have dropped to retaining fourteen and ten percentage points less than the unweighted market average. The gap has widened to six percentage points in Spain.
Opel/Vauxhall, trade values, percentage of list price, variance with overall market performance, 36months/90,000km, January 2015 to January 2018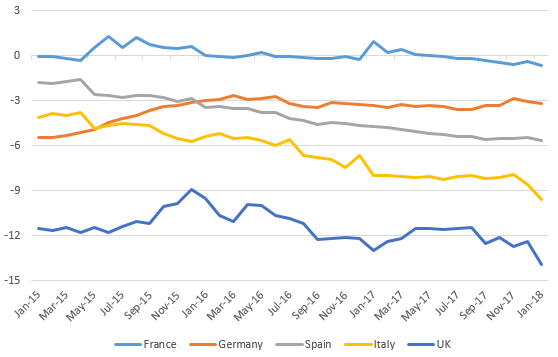 As Automobilwoche has previously reported, 'the development of residual values ​​is important not only for diesel drivers, but also for the balance sheets of carmakers. Because of the number of leasing contracts, companies are at risk if the cars are declining in value because they are de facto the owners of the leased cars.'
Furthermore, the reduced competitiveness as far as total cost of ownership (TCO) is concerned does not bode well for a recovery in market share which has already inflicted financial hurt.
It is no wonder then that PSA Group has outlined a plan to bring Opel back into profit in 2020 following years of losses under GM ownership. The PACE plan includes a quick move to PSA platforms and the introduction of electric vehicles (EVs) which will see Opel, and its UK sister brand Vauxhall, move its entire model line-up onto PSA platforms, allowing the company to secure savings quickly. In addition, the company will roll out nine new models by 2020 and complete the transition to PSA technology by 2024, including powertrains. Opel's former head of the workers' council, Klaus Franz, also sees the need for a major marketing push.
[1] Trade values, measured as a percentage of original list price after 36 months and 90,000 km. Unweighted, i.e. not weighted by sales volume
Photograph courtesy of Opel