5 March 2020
As the UK's new-car registrations fell in February, Autovista Group's senior data journalist Neil King finds positives in seasonally-adjusted rates but the market has yet to see the impact of political and health-related issues.
The seasonally-adjusted annualised rate (SAAR) of the UK new-car market improved for the fifth consecutive month in February, to over 2.6 million registrations. The SAAR is at its highest monthly level since February 2019, except for a spike in August, but the market is still down in the year-to-date compared to 2019. The outlook is incredibly treacherous.
'The volume of new-car registrations in February is somewhat reassuring as the UK's departure from the EU has returned an element of certainty to the new-car market,' says King. 'However, registrations in the first two months of 2020 are almost 6% lower than in the same period in 2019 and the coronavirus will derail demand and supply of at least some models, in the short term. Uncertainty will also resurface with a vengeance later in the year if the terms of the future trading agreement between the UK and the EU are not clear as the end of the Brexit transition on 31 December approaches.'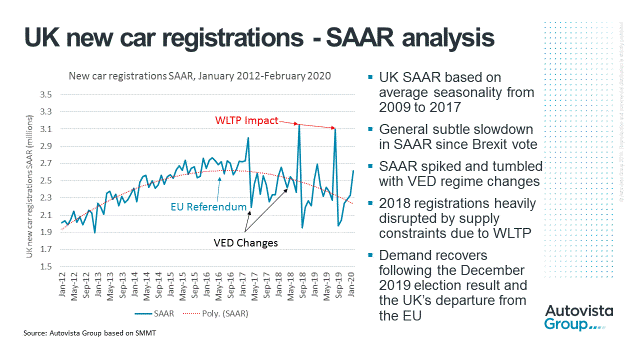 Source: Autovista Group based on SMMT data
Covid-19 and unclear future trading
Despite the recovery in the new-car SAAR since September 2019, the Autovista Group forecast for 2020 has been revised downwards to a 3% contraction, from 1.5% previously. This revision stems from the uncertainty surrounding the terms of the UK's future trading relationship with the EU but also factors in the detrimental impact of the coronavirus (Covid-19), albeit largely assumed to be a short-term issue with the sector broadly able to recover as the year progresses. Growth of 1% is forecast for 2021.
On a cautious note, the UK may yet not reach an agreement with the EU on future trading terms and if Covid-19 is not contained, the impact on the new-car market will be more severe. This downside forecast calls for a 5.5% fall in new-car registrations in 2020 and a further decline of 2% in 2021. However, if a deal is negotiated that secures ongoing free trade between the UK and the EU after the transition phase ends on 31 December 2020, a modest decline of 0.5% is anticipated in 2020, followed by 4% growth in 2021, explains King.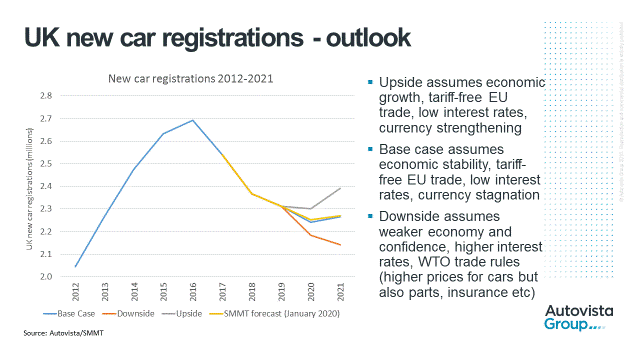 Source: Autovista Group/SMMT
Fuel confusion
New car registrations in the UK fell by 2.9% year-on-year in February, according to the latest figures released today by the Society of Motor Manufacturers and Traders (SMMT). This is a healthy improvement on the 7.3% downturn in January but the market is still 5.8% lower in the first two months of 2020 than in 2019. The SMMT reports that 'the decline was driven primarily by weak consumer confidence and uncertainty over what fuel technology to buy.'
Mike Hawes, SMMT chief executive, said, 'another month of decline for the new-car market is especially concerning at a time when fleet renewal is so important in the fight against climate change. Next week's Budget is the Chancellor's opportunity to reverse this trend by restoring confidence to the market and showing that government is serious about delivering on its environmental ambitions. Industry has invested in the technology, with a huge influx of new zero- and ultra-low emission models coming to market in 2020, and we now need government to match this with a comprehensive package of incentives and infrastructure spending to accelerate demand.'
The SMMT is calling on the chancellor to use next week's budget to announce measures to make zero-emission cars, including plug-in hybrids, more affordable for mass-market buyers. Specifically, the SMMT is seeking the removal of VAT from all new battery-electric vehicles (BEVs), plug-in hybrids (PHEVs) and hydrogen fuel-cell vehicles and estimates this would cut the purchase price of an average family battery-electric run-around by some £5,600 (€6,500). With the long-term continuation of the grant for and reintroducing it for plug-in hybrids, along with exemption from vehicle excise duty (VED) and insurance premium tax, the SMMT reports the upfront cost of these vehicles could be cut by as much as £10,000, making them a viable option for many more buyers.
Based on current market forecasts, SMMT calculations show that the removal of VAT could increase sales of BEVs alone to just under one million between now and 2024, resulting in an additional CO2 saving of 1.2 million tonnes over this period.
'However, this must be part of a comprehensive package of incentives implemented alongside substantial investment in charging infrastructure to ensure a sustainable transition for consumers and businesses of all incomes, regions and lifestyles. Only by addressing both these issues can the government's accelerated ambitions for zero-emission vehicle sales be met,' the SMMT states.
BEVs up three-fold despite weak private demand
Registrations by private buyers were responsible for the bulk of the overall loss, down some 7.4% as 2,741 fewer people took delivery of new cars. Fleet demand, however, remained stable, up by 31 registrations.
Demand for both diesel and petrol cars fell in the month, with registrations down 27.1% and 7.3% respectively, and diesel now accounting for just over a fifth of sales (21.9%). Hybrid-electric vehicles (HEVs) recorded an uplift of 71.9%, to 4,154 units, and registrations of zero-emission capable cars also continued to enjoy growth, with BEVs rising more than three-fold, to 2,508 units, and PHEVs up 49.9% to 2,058 units. However, these vehicles still make up just 5.8% of the market; and BEVs only 3.2%, showing the scale of the challenge ahead.
The SMMT reports that manufacturers will bring more than 23 new battery-electric and 10 plug-in hybrid cars to the UK in 2020, but reiterates that 'take-up of these new models depends on affordability and the provision of adequate charging infrastructure.'