Insight: Strong trends towards petrol over diesel developing for used car RVs in Germany
01 June 2017
New analysis from Autovista Group's German division Schwacke shows a clear broad-level downward trend in Germany on diesel used car residual values (RVs) versus petrol cars. 
It observes a 'trend towards the petrol engine,' as shown in the graph below of Schwacke RV data, with overall diesel vehicle RVs dipping below those of petrol this year. It expects this trend to be reinforced further by additional external factors, including policy regulations such as the non-Euro 6 diesel ban in Stuttgart, as well as changes in the strategies of manufacturers. This includes an ever-greater focus on petrol hybrids and smaller players such as Volvo even considering ceasing next-generation diesel engine development altogether.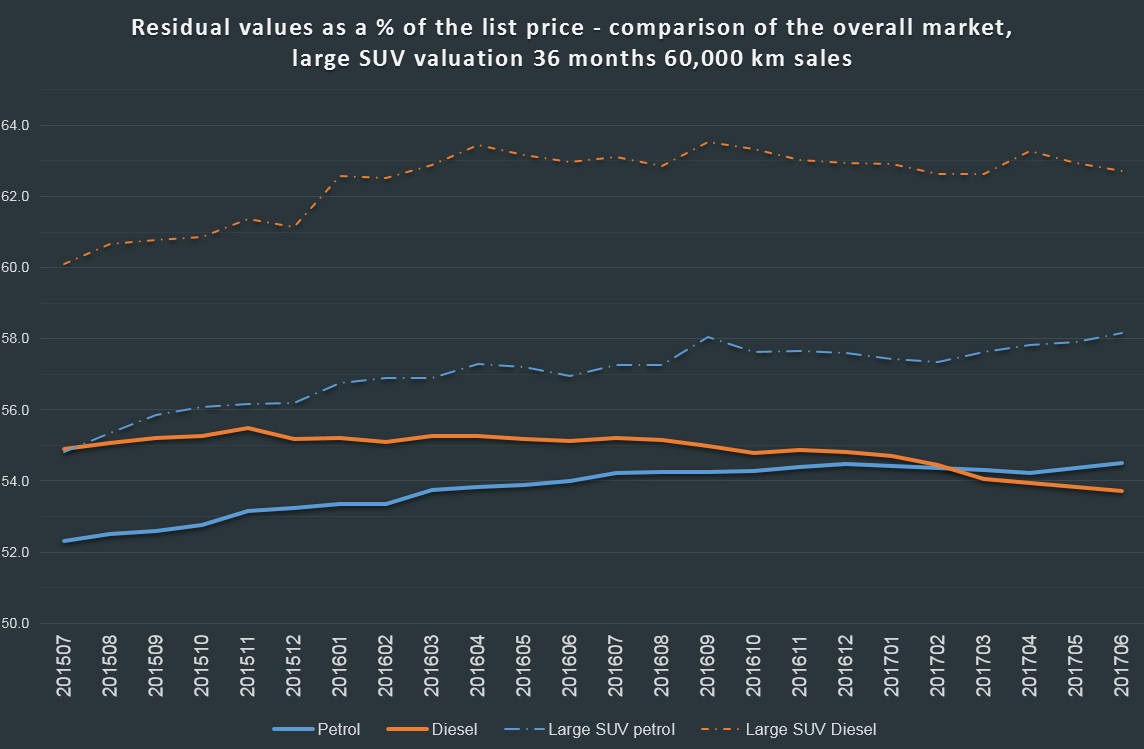 It also points to other factors currently affecting the stronger performance of petrol used cars, including an increasing supply of young used diesel cars in Germany resulting from the growing fleet market of recent years. 
In addition, it highlights that for private end consumers, including trade and manufacturer approvals, diesel registrations have already been declining in all segments except SUVs since 2009. 
Regarding Dieselgate-related discussions held before the spring of 2017, Schwacke observes that little or no restrictions or disadvantages could be expected in the daily use of diesel vehicles. 
However, with the announcements of 'driving bans' now entering the fore, market buyers now seem to be 'partly unsettled' by the broad reporting of diesel restrictions and the new legal issues facing them. As a result, Schwacke concludes that this has created an additional negative aspect in potential new and used car purchase decisions. 
Nevertheless, it stresses that potential effects on resale, and the extent of these effects, is strongly dependent on restrictions such as those announced in Stuttgart reaching a 'critical mass,' or even a nationwide regulation. Otherwise the effects may not be significant. 
It also says that other factors make it difficult to objectify the debate on diesel, including partially unclear motives behind restrictions on particulate matter, NOx pollution and CO2 emissions and the vehicle groups concerned. Currently only local and very limited effects are observed. 
Regardless, Schwacke ends by pointing out the quandary with politicians seeking to reduce the number of diesel vehicles on our roads, including even with heavy-handed scrappage schemes such as mooted in the UK. This is because the better CO2 efficiency of diesels compared to petrol engines mean they are necessary for reaching CO2 fleet targets in 2020. Alternative fuel offensives by manufacturers are not expected to begin in earnest until 2020-2025. 
It therefore concludes that diesel will continue to play a large role in the auto industry for quite a while to come, and will probably not drastically lose control and residual value without external influences. 
Read the full detailed report from Schwacke here.